LIFESTYLE
We Tried Veestro Meal Delivery. Here's Our Review.
*This post is sponsored by Veestro. The opinions and content presented here are my own.
While I enjoy cooking, I have no problem admitting that I love coming home to something quick and easy to heat up on days that I'm too busy or too tired to make a meal. And even though I'm not vegan, this former vegetarian knows that eating a plant-based diet has not only been proven to lower the risks of developing many chronic diseases, but it's also an earth-friendly thing to do. But I'm not going to sit here and say eating plants or plant-based foods all day every day comes easy to me. And to prepare plant-based dishes that are fast and satisfying can be even more of a challenge. So I'm always looking for creative ways to get more plants in my diet. And if it will save me from having to wash a sink full of dirty dishes, then please bring it on. 
That's why when Veestro, the #1 ranked 100% plant-based vegan-friendly meal delivery service, asked us to try their meals, I jumped at the chance. There's nothing that says you have to be vegan to eat vegan. And like I said, the more plants I can get in me the better. Veestro delivers fully prepared organic and non-GMO vegan meals right to your doorstep free of any preservatives. Veestro has over 50 entrees that are great breakfast, lunch, and dinner. The dishes are globally inspired with flavors ranging from Italian, Asian to Tex-Mex and more. They also have a variety of options for special dietary needs and preferences including dishes that are high-protein, gluten-free, nut-free, low-calorie, kosher and even soy-free.  So if you think eating plant-based means eating tofu 24/7, I'm here to tell you with Veestro it's not. That is unless you really want to.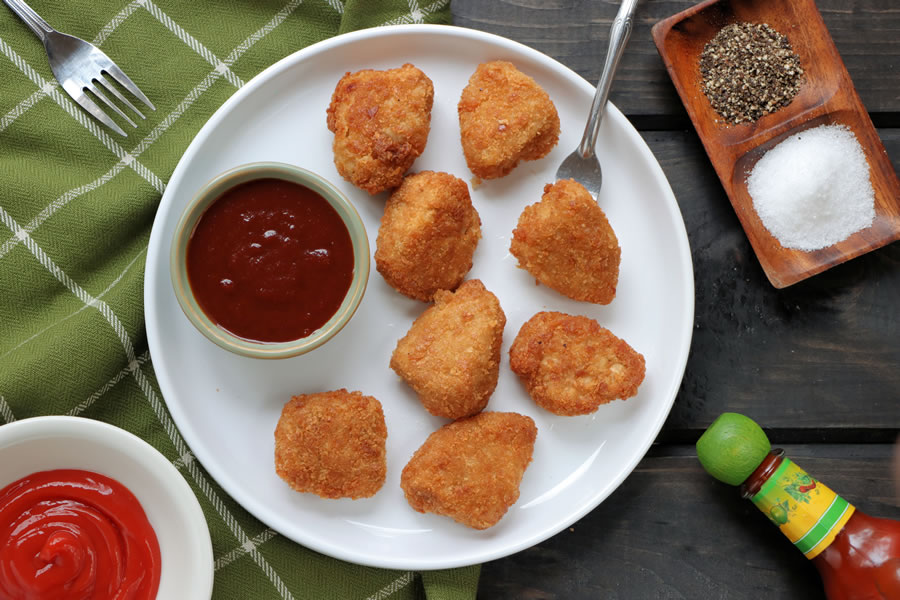 Chick'n Nuggets – These juicy, crispy and light little chicken-like nuggets have a similar texture and flavor to the real thing. And honestly who doesn't like a chicken nugget? They also come with BBQ sauce on the side. These are perfect for an afternoon snack or as part of a dinner. The portion was generous and two people can split these. You can also save the other half for another day. You'll definitely want to stock up on these for heating up anytime you're in the mood for a chicken nugget or a hot snack.  They would also work well tossed on top of a salad, or stuffed into a sandwich or wrap. 
Enchilada Casserole – This was probably my absolute favorite Veestro dish. Veggies like red & green bell peppers and onions are sauteed with crumbled tofu and layered between corn tortillas, topped with vegan cheese and served with a hearty enchilada sauce. I could definitely see myself eating this at least once a week and the best part is that I actually felt satisfied afterward. This one was full of flavor and again a generous portion. With only 250 calories, 19 total net carbs and 13 grams of protein this is a great waist-friendly option.
Beluga Lentils Braise – For me, this one was more of a side dish, but I really enjoyed the southeast Asian inspired flavor all the same. Black beluga lentils are stewed in coconut milk with quinoa and veggies like peas, yellow squash, zucchini, rainbow carrots, collard greens, and potatoes. Spices like ginger, cumin, turmeric, paprika, and cinnamon give this dish its unique flavor profile.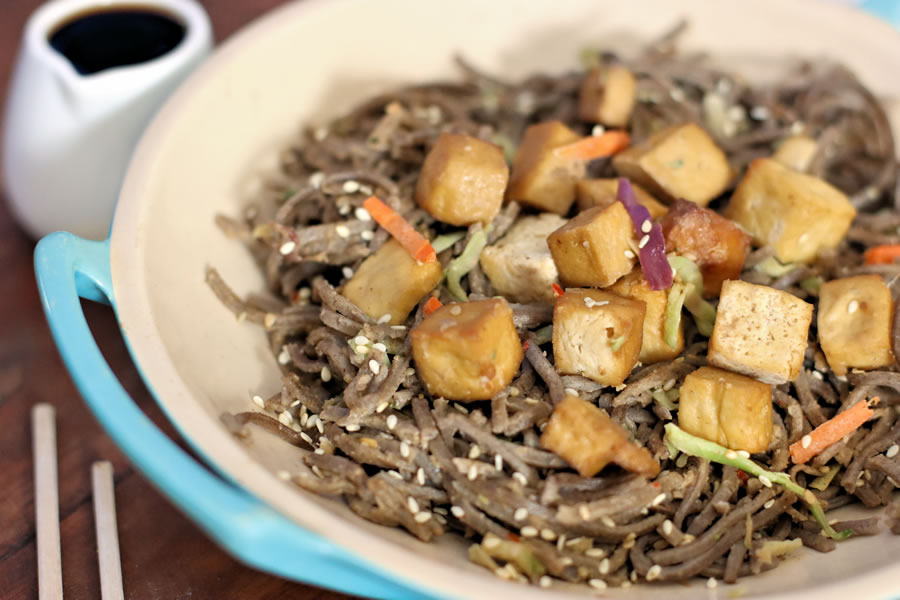 Soba Noodles – If you like Asian inspired flavors this dish is for you. Soba noodles are topped with shredded broccoli, carrots, tofu, garlic and spices and then tossed with a peanut sauce. This one is super tasty and the best part is you can eat this dish cold or warmed up depending on your mood.
Red Curry Tofu – If you love Indian and Thai flavors this curry should be on your list of dishes to try. Tofu, broccoli, cauliflower, and carrots are simmered with gently spiced curry and fragrant herbs and spices like lemongrass, galangal (Thai ginger), coriander seeds, ginger, and cayenne pepper. Like all the Veestro dishes we tried, this one is super mild with tons of flavor. 
Breakfast Burrito – Veestro's breakfast burrito is a total winner. And if you're looking for something you can really sink your teeth into this it. Black beans, tomatoes, tofu, onions, and garlic are tossed with herbs and spices like cilantro, chili powder, and cayenne pepper and then wrapped in a whole wheat tortilla. It comes with breakfast potatoes and delicious savory red sauce on the side that's perfect for dipping.  It's also packed with 17 grams of protein and can easily be split into two portions. This is exactly the kind of quick and easy meal that will fuel you through a busy morning.
Kale and Quinoa Salad –  Who knew you can freeze kale, defrost it in the fridge, drizzle it with some dressing and you're good to go? I didn't until I tried Veestro's delicious kale salad tossed with quinoa, dried cranberries, broccoli shreds, and marinated tempeh bits. The tahini-based dressing on this salad is positively addicting and I can see myself eating this salad regularly. If you forget to take it out of the freezer, a few hours on the counter will defrost it. I think it may even taste great gently warmed on the stovetop.
Veestro Foodie Tip!
Veestro's choice of entrees does rotate somewhat and they even offer limited and seasonal specialties like their Herb Crusted Turk'y Dinner for a plant-based holiday-inspired feast which is pretty cool. This is great for those who love to always try new things, but if there's something you really enjoy the best solution is to stock up in case it gets taken off the menu for a bit.
Some Veestro meals like their kale salad or soba noodles simply need to be thawed in the refrigerator overnight and are then ready to eat. Other dishes can be reheated on your stovetop, in your oven or toaster oven or microwave in just a few minutes. Dishes like their curries heat up quickly on the stovetop where other dishes like the Enchilada Casserole or Eggplant Parmesan are ready in around 30 minutes or less if cooking it in the oven.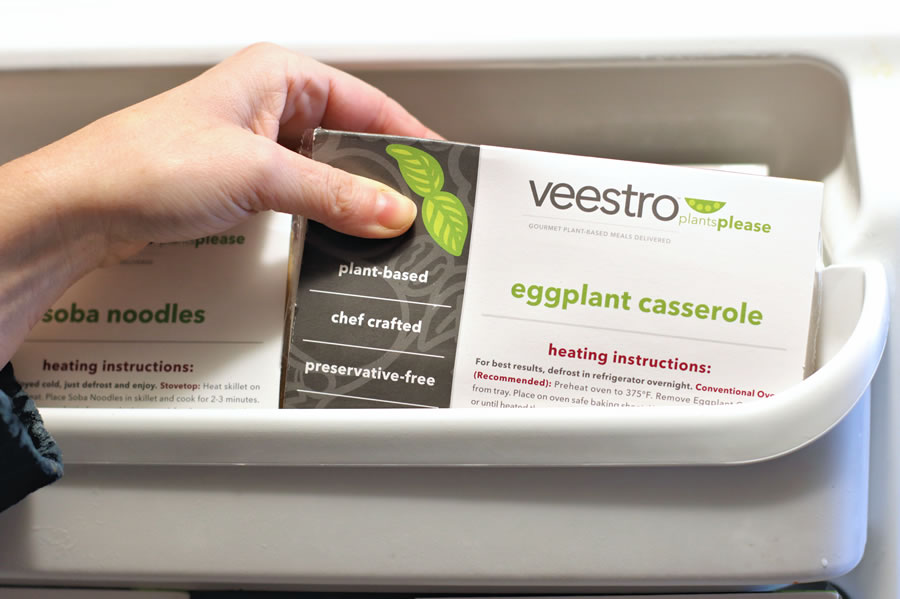 Veestro is completely transparent about the ingredients they use. If you want to get more detailed nutritional information on a specific dish just click the entree you're interested in when ordering. You'll see a description of the entree along with a full listing of the ingredients, and nutrition info. It's also listed on the outside of every meal package. All dishes are vegan, non-GMO, organic and preservative-free.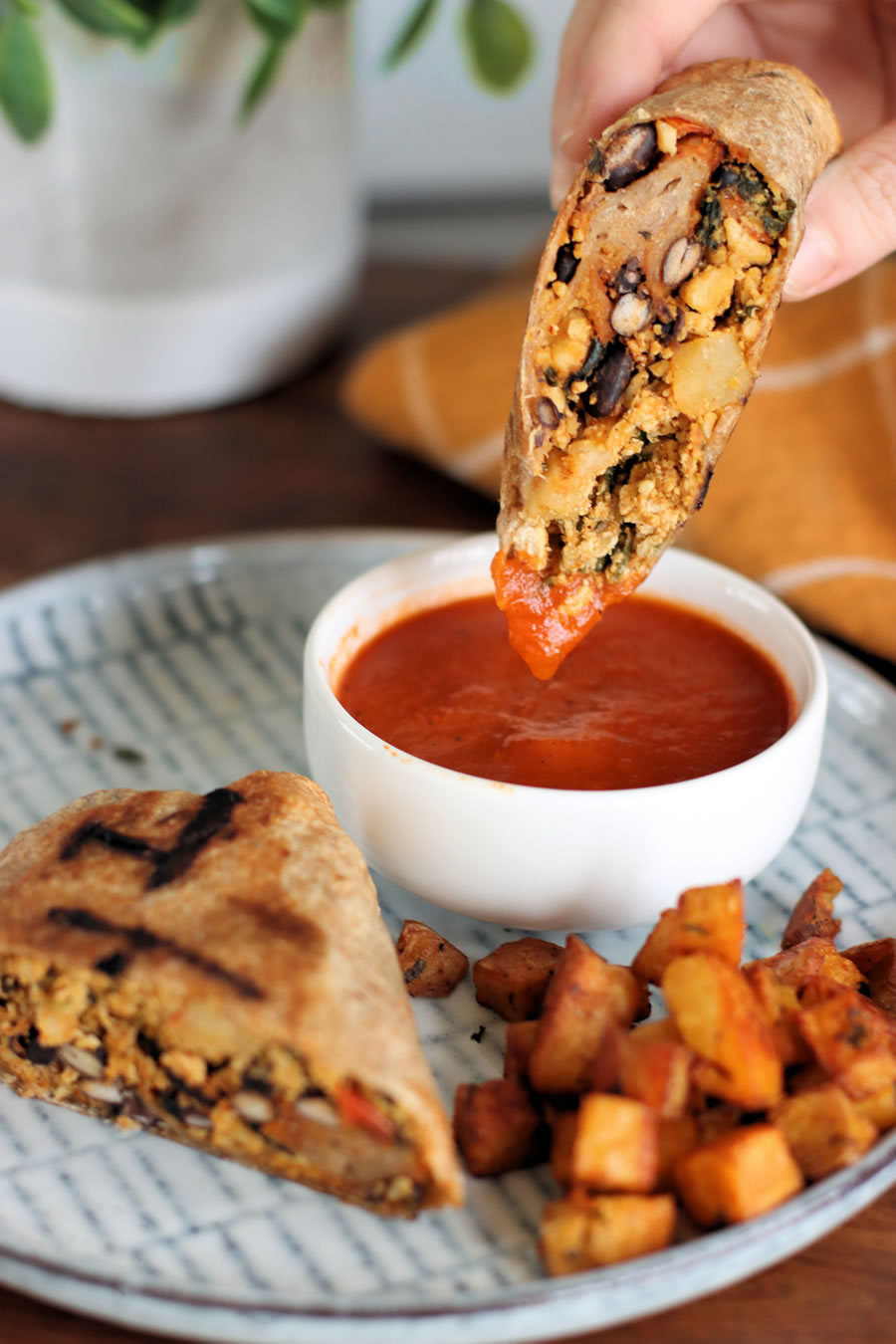 Veestro has three different styles of plant-based meal plans ranging from 10 to 30 meals per delivery. Once you choose your meal plan and delivery frequency, your meals are then shipped to your doorstep. That's it. 
Meals can cost as low as $9.90 which is quite reasonable considering it's completely organic, whole prepared dishes that are being shipped right to you. Fast food or quick options can easily cost just as much or more without adding any nutritional value to you at all. With Veestro, the key to getting your meal cost as low as possible is ordering more meals per shipment. You'll also save 10% more by subscribing to the auto-delivery schedule instead of just ordering your meal boxes one-off. If you're shy about committing to an auto-delivery, Veestro is super flexible and you can always change, pause or cancel your order anytime.
A La Carte Plan
The Veestro A La Carte option allows you to pick and choose each one of your entrees with orders ranging from 10 to 30 meals per delivery. You can choose all one dish or 30 different dishes if you're all about variety. This flexible option is perfect for picky eaters or anyone with specific dietary needs. The cost of this plan breaks down as follows:
Chef's Choice Plan
Veestro's Chef's Choice Plan is more of a curated meal box and is great for anyone who isn't fussy and likes the words "surprise me." Choose between a Customer Favorites box, a High-Protein box or a Gluten-Free box and the chefs at Veestro will take care of the rest. What I like most about this option is discovering new dishes and flavors I wouldn't normally choose on my own. It's living on the edge, plant-based style. The cost for Chef's Box is the same as the A La Carte Plan
30 meals = $9.90 per meal
20 meals = $10.80 per meal
10 Meals = $11.70 per meal
Weight Loss Plan
If you're trying to shed a few pounds, the Weight Loss Box should be your go-to. It's also a nice option if you just want to have some nice light meals ready-to-go. The Weight Loss Box option is a little different than the other two plans. With this box, you can choose from a 5-day or 7-day meal plan where each day you get three meals totaling around 1200 calories. There is a gluten-free option available as well. Here's how the weight loss plan brakes down:
Choose From 2 Weight Loss Plans:
5 Day Plan (15 Meals Total) = 11.70 per meal
7 Day Plan (21 Meals Total) = 10.80 per meal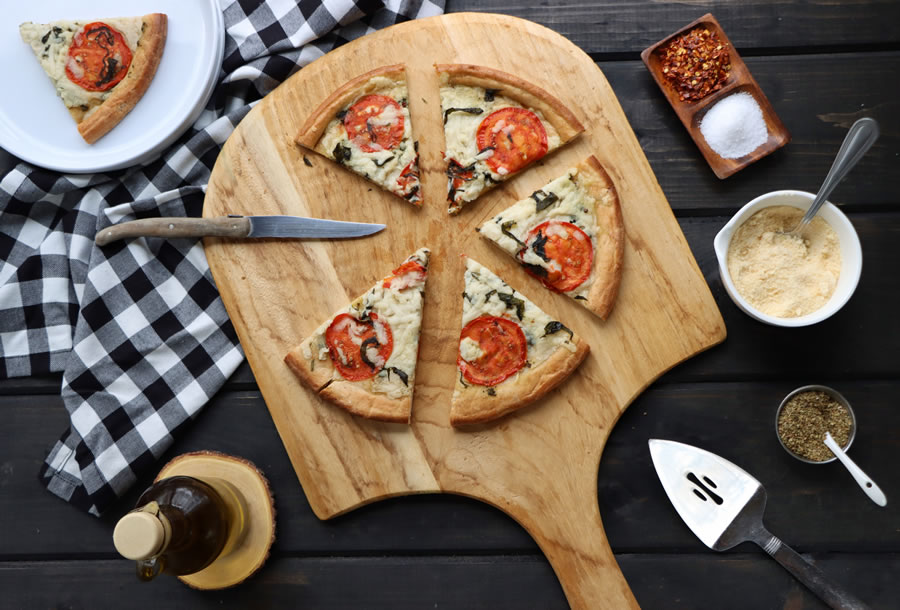 All in all, I truly enjoyed the entire Veestro experience. It's a great value considering the quality of food you get, the time it can save you, and the food waste it can eliminate in your own home.
Veestro is really perfect for absolutely anyone looking to get more plant-based foods in their diet, especially if you're short on time, only cooking for one, don't know how to cook and are sick of eating out.
Of course, Veestro is great if you're already vegan. That's a no brainer. But it's also perfect if you're maybe thinking of going vegan or vegetarian but aren't sure what to eat or if you're simply looking for some high-quality food you can heat up on the fly. I can honestly say that for the first time in a long time I'm actually excited about eating plant-based. And it's 100% because of Veestro. 
Want Delicious, Healthy & Organic Plant-Based Dishes Delivered Right to Your Door?
Click HERE to try your first Veestro subscription box!